Analysis: Despite Different Situations, Little Time to Party for State Dems & GOP…
Last Monday, the Massachusetts Democratic Party did what might now be unthinkable in the state Republican party. A bloodless revolution saw the incumbent chair replaced with the new governor's pick to lead the party. A few months before, an acrimonious election on the GOP's side also saw turnover but the process was anything but peaceful.
Normally, there would be nothing remarkable about a new governor, having flipped her office for her party, shaking up party leadership. However, given the last few years of dissension and chaos among Bay State Republicans, it is impossible to imagine a new Republican governor—who could actually win in Massachusetts—resetting his or her party's board so easily. Indeed, former governor Charlie Baker's political operation all but lost control of the state party despite years of trying.
To see Democrats not only in power and Republicans an endangered species in Bay State habitats is not the surprise. Rather it is that this true and Democrats are orderly and deliberate while the GOP disintegrates further into chaos and finger-pointing. Nevertheless, both parties have grappled with decades of political shifts. These continue to erode the influence of party organizations nationally, even within the states where one or the other is dominant.
Earlier this year, Amy Carnevale took over the GOP from Jim Lyons in a brutal and close contest. Lyons's tenure achieved notoriety for his sharp differences with Baker. Since taking the wheel, Carnevale has spent a considerable amount of time putting out fires, even as Lyons's allies plot.
By contrast, Democrats experienced a clean transition.
Steve Kerrigan, Democrats 2014 lieutenant governor candidate, one-time Ted Kennedy aide, and state and national party stalwart, took over as state Democratic chair last Monday. The process at an American Legion in Newton was a formality. In February, now-former chair Gus Bickford announced he was resigning. Kerrigan, who had the public and immediate backing Governor Maura Healey, was the only candidate to replace him.
It is hard to see this happening without the hidden hand of Healey. Still, from establishmentarians to rabblerousers, the reaction to Kerrigan's ascension was largely positive.
Kerrigan had lost the chairmanship to Bickford in 2016 in the days following Trump's election. On paper, Bickford's tenure was successful. Democrats gained 19 seats and no incumbent Dem lost in that time. But beneath the surface, activists were grousing and whatever their complaints, Healey wanted her own person in there.
"Steve is smart, collaborative, and knows what it takes to build successful campaigns," Healey said, after thanking Bickford, in a statement the party released. "I look forward to the work ahead and to partnering with Steve to show how Democrats get results that matter in people's lives."
"Becoming Chairman of the Massachusetts Democratic Party is the honor of a lifetime. As someone who grew up in a union household in Central Massachusetts, I've seen firsthand how the Democratic Party has improved people's lives," Kerrigan said in the statement.
Kerrigan, too, thanks Bickford but also turned forward.
"Senator Kennedy always reminded us that you never rest on your laurels. You can always get better. My goal is to make the Massachusetts Democratic Party the gold standard for state parties across the country," Kerrigan said.
Bickford congratulated Kerrigan and thanked the party for the opportunity to lead.
Democrats have been dominant in Massachusetts since JFK and have gripped all federal offices since Bill Clinton's reelection—save the Scott Brown interregnum. Still, the party has struggled to hold unified control of Beacon Hill, practically inviting the #demsindisarray hashtag of the Twitter of yore. Then critics on the left accused the party—or more accurately, top Democratic officeholders—of all but caving to Massachusetts's leviathan governor and his equally stratospheric approval rating.
But before Democrats had the Kennedys, Massachusetts Republicans had a history steeped in Sumners, Lodges and Saltonstalls. It was Republicans, not Democrats, who elected the state's first Black statewide official. While eventually everything but governor slipped further away from, the Mass GOP was still a force in national politics. Republicans here could mill capable operatives—and even a presidential candidate—to deploy across the country.
This status quo had begun to decay in the last 20 years, but hastened in the Trump era. As the Republican party radicalized, country club types could no longer rise to top politically—at least right side up. But this decline was happening in the context of zero federal offices and a legislative contingent that could not fill a school bus.
Today, state Senate Republicans can caucus in a Volkswagen Beetle. House Republicans could not fill a Green Line subway car. Meanwhile, Democrats have reclaimed the governor's office. So far, she has backed away from hostile hollowing of government her predecessor brought.
The GOP's troubles do not look set to improve soon. No Republican likely to win the presidential nomination could recoup the voters lost over the last 20 years. That is probably just as well given the scale of problems Carnevale is dealing with.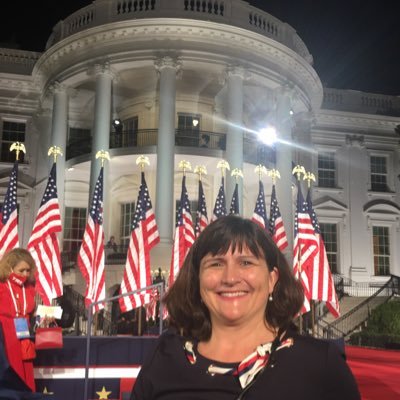 In an email to state Republicans, which WMP&I obtained, Carnevale discussed what she describes as successful efforts to settle three lawsuits involving the state committee. A fourth was recommended for dismissal. However, Lyons may litigate over backpay.
"These funds, and the money that will have to pay for the lawyer to represent the party will come directly out of party and candidate support," Carnevale wrote.
Meanwhile, the committee faces mountains of debt more vacancies on the state committee. The state GOP has to settle over $602,000 in invoices, mostly for media expenses she told members. Donors recently contributed some $100,000 to help the party dig out of the hole.
Meanwhile, six state committee seats are vacant.
"The party's bylaws require these vacancies to be filled within 45 days, yet some of these seats went vacant for more than 800 days," she wrote.  "That's unacceptable to me, and I know it is to you." She opposed efforts to refuse to seat members with differing ideologies.
The state GOP committee has 80 members or one woman and one man for each senate district. The Massachusetts Democratic Committee elects members that way, too but also elects seats in each senate district via caucus. Countless more Dems hold seats based on status or longevity.
Aside from surging resources into New Hampshire to assist with the general election, the GOP probably will not be able to do much else for some time. Rebuilding the grassroots is one thing. But clawing back to event its late-Obama era numbers looks nearly impossible unless Republicans nominate a moderate presidential candidate.
Democrats can probably use that time to regroup as well. While the accolades for Bickford sincere, many activists have complained about party infrastructure for years. Some of this predates Bickford's tenure. The grassroots apparatus Elizabeth Warren assembled to win her Senate seat in 2012 was used, to some extent, in 2014. It did not survive the nonevent that the 2016 election was in the commonwealth before Bickford took over.
Yet, it was conspicuous when in 2018 Warren had to help underwrite the party's statewide coordinated campaign during her reelection. Warren faced no serious opposition to reelection aside from recurring political character Geoff Diehl. With donors and many Democrats convinced taking down Baker was impossible, this was not a shock. Although Democrats won everything, had Warren not come through, it may have exposed the ticket if something happened down ballot.
In short, it would be a mistake to think only side needs to rebuild. By far Republicans have the heavier lift to return to (any) power. Democrats have the power, but their party cannot afford to rest on its laurels, even in Massachusetts. If the gulf between the party faithful and elected establishment grows too wide, Dems may be locked out of the corner office soon enough.
WMP&I Editor-in-Chief Matt Szafranski is an officer of a local Democratic committee, which is a statutory unit of the state Democratic party.